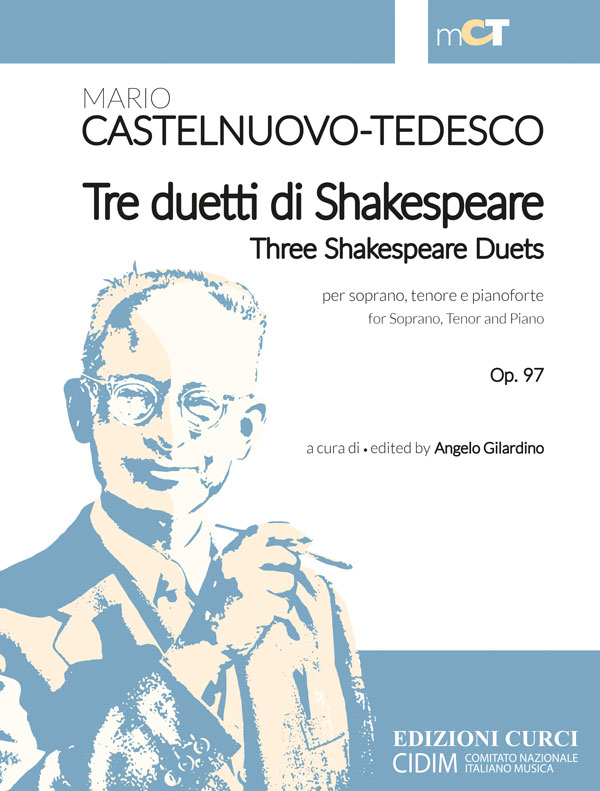 Tre duetti di Shakespeare per soprano, tenore e pianoforte / Three Shakespeare Duets for Soprano, Tenor and Piano
Collana: Mario Castelnuovo-Tedesco Collection
Prezzo: 16,00 €
Codice: EC12179 9790215916630
Tipologia: spartito
Genere: classica
Pagine: 40
---
I tre brani per soprano, tenore e pianoforte op. 97 del 1937 si aggiungono idealmente al grande ciclo per voce e pianoforte intitolato The Passionate Pilgrim op. 24, arricchendolo con un apporto originalissimo che, pur appartenendo al genere della musica vocale da camera, offre saporosi spunti di carattere teatrale.
These three pieces for soprano, tenor and piano op. 97 of 1937 can be considered an appendix to the earlier, larger cycle for voice and piano entitled The Passionate Pilgrim op. 24, a highly original contribution that, although belonging to the genre of vocal chamber music, offers delightful suggestions of a theatrical nature.
---
Edizioni Curci, in collaborazione con il Cidim, Comitato nazionale italiano musica, è orgogliosa di presentare la Mario Castelnuovo-Tedesco Collection, la prima collana editoriale dedicata al compositore fiorentino (1895-1968), diventato negli Stati Uniti il "maestro dei maestri". Il curatore è Angelo Gilardino (1941), compositore e studioso che gode della piena fiducia degli eredi di Castelnuovo-Tedesco. La collana prevede la pubblicazione di tutte le composizioni ancora inedite conservate presso la Library of Congress di Washington, conformemente ai manoscritti originali. Ogni volume è redatto in italiano e inglese.
Edizioni Curci, in association with Cidim, Comitato nazionale italiano musica (Italian National Music Committee), is proud to present The Mario Castelnuovo-Tedesco Collection, the first series ever published entirely dedicated to the composer from Florence (1895-1968) who settled in the United States, where he became known as "the Maestros' Maestro". The collection is edited by Angelo Gilardino, composer and scholar, who enjoys the full confidence of the Castelnuovo-Tedesco's estate. The collection will present all of the musician's as yet unpublished works, which are housed at the Library of Congress in Washington DC, according to the original manuscripts. Each volume has both Italian and English commentaries.